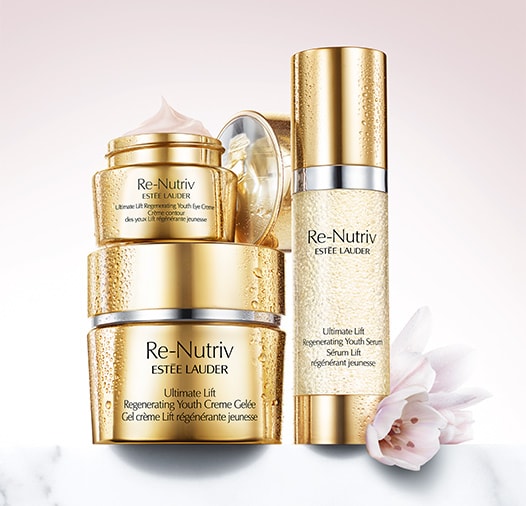 Re-Nutriv Ultimate Lift
Regenerating Youth Collection
Flowers have long been a key source of inspiration in beauty. They're beloved for their fragrance, of course, but can also offer incredible benefits in skincare. Case in point: the new Re-Nutriv Ultimate Lift Regenerating Youth Collection. It features an exclusive Floralixir™ Dew, comprised of two exceptional flowers known for their ability to survive and thrive in the harshest of climates. One, the Himalayan Gentian, comes from the bitter cold of the world's tallest mountain range. It has been prized in traditional Ayurvedic medicine for thousands of years and is thought to influence transformations in the body and mind. The other, Brasil Everlasting, comes from Brazil's desolate Serra do Espinhaço region, where it flourishes despite dry, nutrient-deficient soil and intense UV exposure.
Together, these two remarkable flowers, magnified by Re-Nutriv's powerful technologies, help skin look dramatically more lifted and firmer. It's as if skin is being "re-trained" to act like younger skin. This amazing formula comes to life in a concentrated serum, a rich, lush creme or a lightweight creme gelée, and a luxuriously soft eye creme. This is next-level flower power.