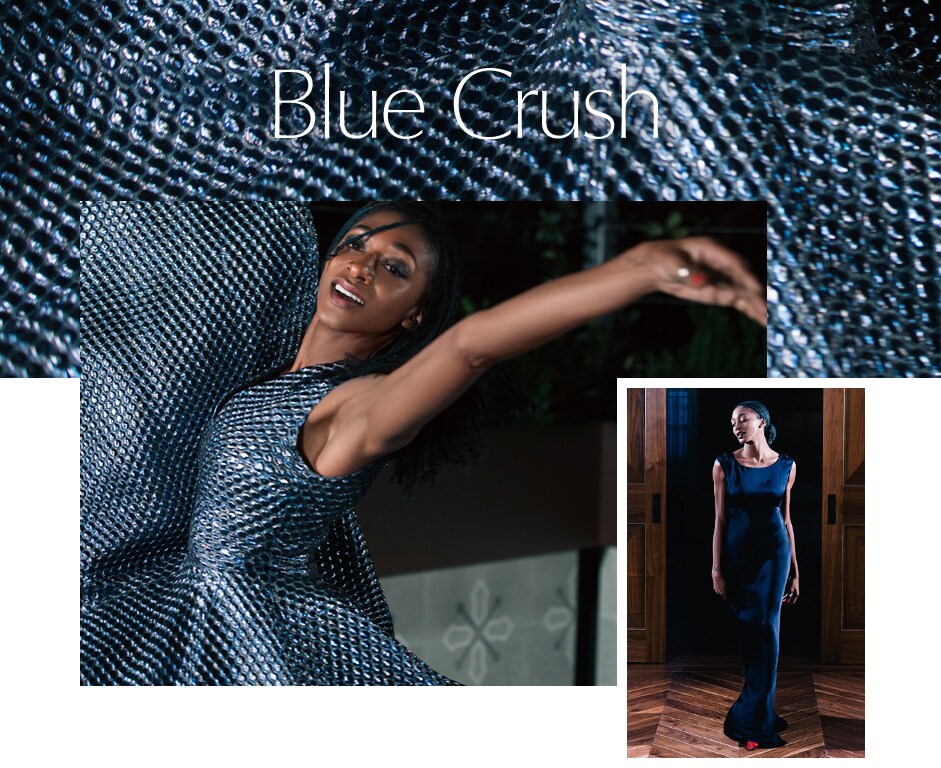 Singer/songwriter Ala.ni is on the cusp of something major. Think of her as a modern day Billie Holiday meets Etta James—her voice will give you goosebumps, and her presence on stage (as demonstrated in London at the hip Dover Street Arts Club during her sultry set at the Advanced Night Repair soirée), is purely captivating. But ask her to describe her style of music in her own words, and she won't commit to one particular category: "I try not to describe my music as one style or the other... It's like if you make a cake (I love cooking!): You make it, but then it's up to the people sampling it to decide if they like it and how it makes them feel. Baking, like singing and writing, is a process—it evolves, it changes and it grows with you".
Up there with singing and baking, one of her favourite things is the colour blue (which, incidentally, was also our founder Estée Lauder's favorite colour—she found it very calming, which explains why it's the signature colour for our packaging). But Ala.ni loves blue more than most, and it plays a very big part in this songstress's life—so much so that it influences both personal and professional decisions. At the time of this interview, she has navy-dyed hair ("I did it myself—my hands were blue for days and my bathroom is now a vivid shade of blue"), she is wearing deep indigo jeans and has a woolly coat the chicest shade of deep aquamarine.
But why all the blue? "I am a September baby, so sapphire is my birthstone. It's so fresh and it just does something to me. It speaks to me and soothes me". A native Londoner now living in Paris, she feels it's the best place to indulge in her most-loved shade: "Being in France—and Paris in particular—I am really embracing my blue."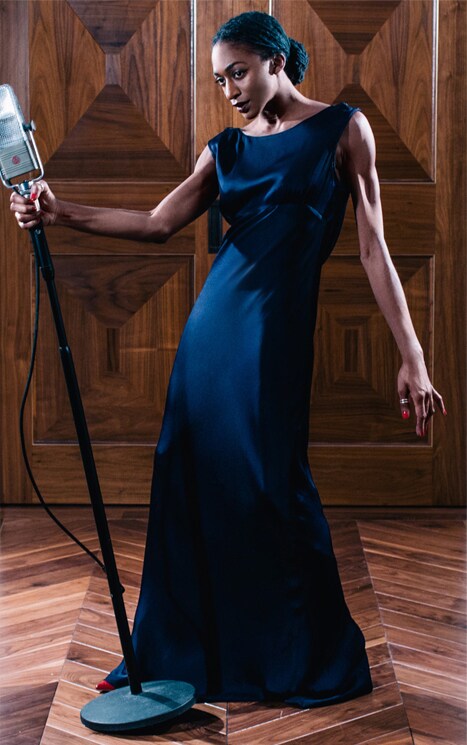 Blue is so fresh and it just does something to me. It speaks to me and soothes me.
Storyboarding, scripting and directing all of her own music videos, for songs that lament the trials and tribulations of past relationships, the blue theme continues, using an old-school film technique called Cyanotype. Think of it as the blue-tinted cousin of the sepia-toned Instagram filter. "It creates the perfect mood", Ala.ni explains. Watch the video for her single "Come to Me", and you will even spy an Estée Lauder Pure Color Envy Lipstick that made it into the final cut: "Tonally it worked so well with the colour theme on the shoot. The packaging was the perfect shade."
So, what does the queen of nighttime blues use pre- and post-performance? "I don't wear a lot of make-up, but I literally couldn't live without my eyeliner flick and won't perform without it. It's such an empowering way of wearing makeup. Brows are also very important. If you have your brows done, it makes such a difference to your face."
"Generally I remove makeup with coconut oil and then sometimes I will just leave it at that to let my skin breathe a little overnight. But after a performance, for when I need something a bit stronger, Advanced Night Repair restores my skin so I wake up feeling fresh."
Ala.ni's new album "You and I" is out now. And to keep up with her adventures, follow her at @alaniofficial.