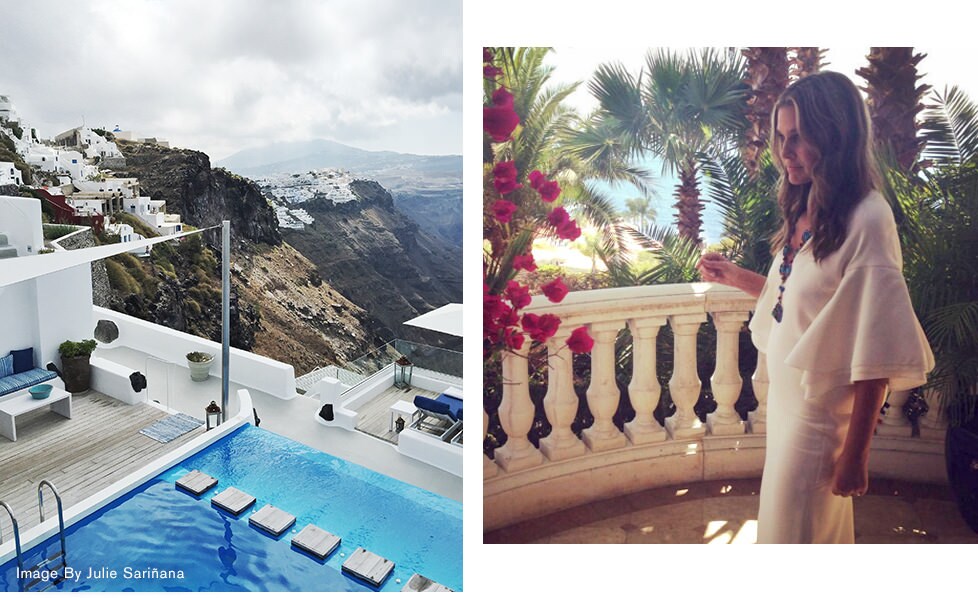 What draws you to the Mediterranean?
The Mediterranean culture is about enjoying life, which I love and respect. Having grown up in New York City and in a family business, I am constantly on the go. Just the thought or scent of the Mediterranean can make you feel relaxed. It brings to mind long, late lunches by the sea. So I travel there about once a year.
I think it's a wonderful balance between escape, culture, sea and sun, and there's always an element of surprise. It's fun. I'm such a visual person, so I love to see people's style and discover new shops, restaurants, places to go. I think the Mediterranean has such a rich history. You're always discovering.
What are some of your favourite destinations?
I think the Italian part of the Mediterranean is really wonderful because it's effortless. It's easy. It's warm. The people are hospitable. The food is delicious. I like to stay at the Hotel Sirenuse in Positano and the Hotel Il Pellicano in Porto Ercole. My advice for anyone visiting the Mediterranean is to live like a local. Don't make too many plans. Just explore town, walk around and excite all of your senses. Have a late lunch, sip on a crisp glass of rosé and dip your toes in the sea.
When you travel to the area, what's your look?
I definitely wear a lot of white and colour, so a great pair of white shorts, pretty tunics, turquoise jewelry, big sunglasses, gold Capri sandals and bangle bracelets, colorful bikinis and straw accessories. I love the little raffia bag of ours. I have it in a few different colours. That, to me, is my Mediterranean accessory.
My hair is literally beach hair—get out of the water, brush it. I always travel with my little [AERIN] comb so I can go swimming and let my hair air dry, fresh and easy. For my makeup, I go really natural. I love our bronzing powder, lip conditioner, brown eyeliner, brown mascara and very neutral lip gloss. We have one called Weekend, which I usually pack. Obviously the fragrance is either Mediterranean Honeysuckle or our Gardenia Rattan, which was actually inspired by the south of France.
How did the Mediterranean inspire your new fragrance?
The idea of the Mediterranean inspired the fragrance. It has a wonderful green sense to it because of the Bourgeon de Cassis, then a sweetness because of the honeysuckle, then you go deeper and it's grapefruit, bergamot oil, mandarin oil. It really does feel like you've gotten out of the water and are just smelling the air around you. It feels fresh.
I always like having a floral influence in my fragrances as it can have such a powerful effect on our mood and memories. Honeysuckle is a delicate, feminine flower that's grown in the Mediterranean. When I smell it, I am brought back to sitting in the warmth by the sea.
It really does feel like you've gotten out of the water and are just smelling the air around you. It feels fresh.
You've chosen four bloggers from around the world to partner with on spreading the word about your new fragrance. What do you like about their work?
Yes, we are working with Lucy Williams of Fashion Me Now in the UK, Zanita Whittington of Australia, Olivia Thébaut of France, and Julie Sarinana of Sincerely Jules here in the U.S. I think what's interesting about them is they all have a beautiful sensibility even though they're from all over the world, and their point of view is escape and aspiration. There's a wonderful femininity to their work.
Finally, what do you hope people get from wearing Mediterranean Honeysuckle?
Mediterranean Honeysuckle really allows you to travel, either physically or mentally, and I think that's what's so fun about the whole concept. Even if you go on Aerin.com, we have products that we've created just for this collection, whether it's a surfboard or shorts or a luggage tag or a passport cover. It really does define that sense of escape. Unlike some of the other fragrances of the past, this one allows you to dream of vacation. It's like a vacation in a bottle.