For the beauty obsessed among us, packing for a getaway—be it a long weekend or weeklong vacation—presents a unique set of challenges. The question of whether to whittle our many-step skincare routine down to a precious few essentials is one thing, but figuring out what we need for our in-flight regimen versus what can be stowed in checked luggage is a whole other puzzle. For guidance, we tapped editorial director of The Coveteur (and frequent jet-setter whose adventures we, yes, covet), Laurel Pantin, to show us her trip-tested packing methodology. She's prepping for a few days in Santorini with girlfriends, so a mix of products for sun-soaked swims plus hot nights out is a must.
Watch the video, then read on for some of Pantin's best travel memories below.
What is your favorite or most memorable trip you've taken?
Namibia—my husband and I got engaged there! We'd dreamed of going to the Skeleton Coast for years, and when we moved to South Africa we finally had the chance to go. It's the most beautiful place in the world—the trip was really magical.
How do you like to relax on a long flight?
A glass of champagne and a movie!
What are your stranded-on-a-desert-island essentials?
Lip balm, sunscreen and my Kindle.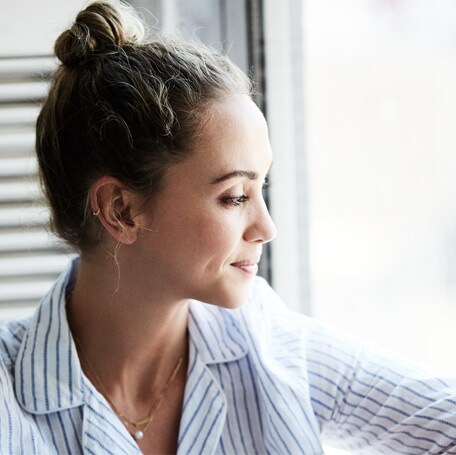 You had a destination wedding [in Pantin's hometown of Austin, Texas]. What did you do to prep your skin for the big day?
To be totally honest, I had a bit of a hangover that morning from the rehearsal dinner party, and I needed something that would wake up my skin and make me not look like I fell asleep without taking my makeup off. [The Advanced Night Repair PowerFoil Mask] made everything look brighter and plumper! Plus, it's fun to wear something so foil-y.
What's on your travel wish list?
Japan is number one for me. I've been dying to go for years, but I know I need a few weeks there, and it just hasn't happened yet. My brother and I have always wanted to go together. Hopefully we will!