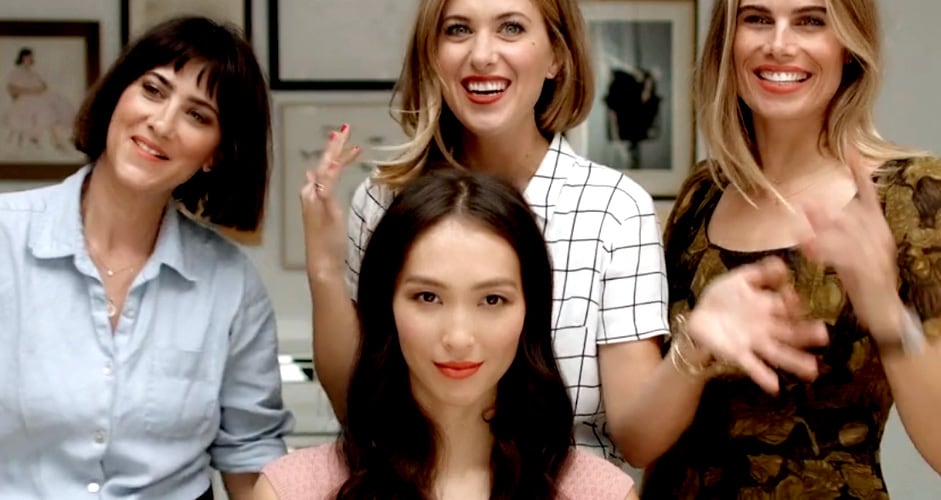 When they opened STRIIIKE last Fall in Beverly Hills, Jenn, Ashley and Kristie Streicher found themselves at the helm one of L.A.'s most popular beauty destinations, where years of working as a celebrity and editorial makeup artist (Jenn), hair stylist (Ashley) and in-demand brow groomer (Kristie) finally coalesced. But careers in beauty weren't always in the cards for the Northern California-born sister trio. "We were full-on tomboys," claims Kristie. A certain appreciation for the ritual of getting dressed always prevailed at the Streicher household, though, and when Jenn got a job working as a beauty advisor in the early 90s at the Estée Lauder counter in Sacramento, her sisters followed her into careers in cosmetics.
A little over twenty years later, many of which were spent traveling between L.A., New York and everywhere in between, working with bi-coastal clients and on red carpet premieres and film sets, the three women found themselves settled in L.A. at the same time. "We were being offered reality show pitches all the time, so we figured we probably should do something together," Kristie jokes of the inception of STRIIIKE, their full-service makeup, hair and brow atelier that is also the exclusive home of "Lightning STRIIIKE," a 15-minute service where Jenn, Ashley and Kristie work their magic in tandem.
"It's meant to be just a touch-up, not a whole thing, but it's pretty amazing what it can do," Kristie insists of the three-in-one treatment, nothing that not all women need to spend hours getting ready. "Working with what you have is sort of our main idea," she continues of the natural beauty ethos that prevails at the bright, welcoming space. "People are surprised how doing little things can really transform you," adds Jenn. "You look so much better, but you also feel so much more confident." Above, Estée Stories catches the Lightning Strike on camera, while Jenn, Kristie and Ashley provide their top transformational beauty tips below.
1
Transform Your…Makeup
"If you're going for something that will produce the quickest, easiest transformation in the shortest amount of time, it's lipstick. A bright pop of colour—like an orange-y red, a true red, or a fuchsia—makes you look like you're wearing makeup, even if you're not."—Jenn Streicher
2
Transform Your…Hair
"A good haircut can change your entire vibe. I've been cutting a lot of people into bobs recently, which can be very transformative—having something above your shoulders makes you stand taller, makes you more confident and gives you a sense of sassiness because you have an actual style. If you don't want to make the cut, try some shorter pieces around your face to change it up."—Ashley Streicher
3
Transform Your…Brows
"Your eye area is where everyone is looking when they talk to you, and a little bit of pencil in sparse areas of your brows and on the ends can open up the entire eye area. A [well-shaped brow] can be so transformative that it can even allow you wear a bit less makeup! Try to find a pencil that matches your tone, so if you have an ashy hair colour—which most people do—look for something one shade lighter than your actual hair color that's cool, rather than warm, just to create a soft shadow." —Kristie Streicher