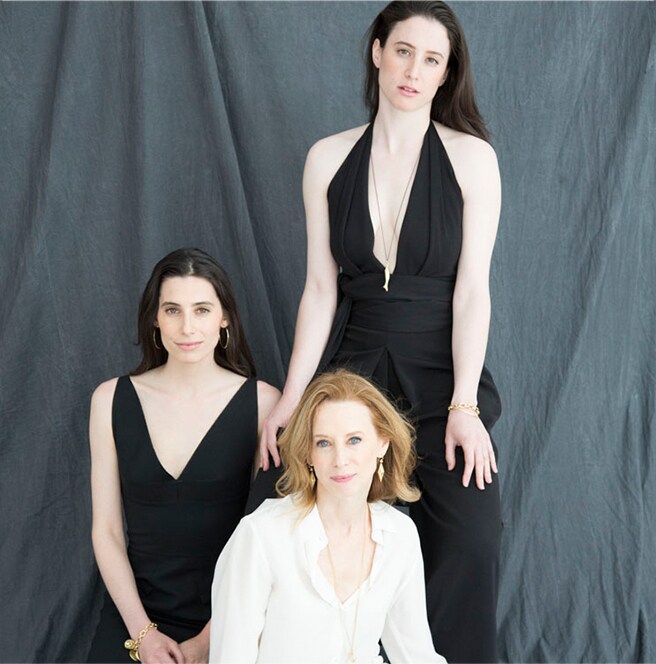 Photography and jewelry design don't seem like vocations that would go hand-in-hand, but through her passions for each, Monica Rich Kosann has made a stunning connection between the two. "I have always been influenced and inspired by the photographers of the early 1900s," she explained over tea with her daughters one afternoon in New York City. "They were the first photographers who weren't just documenting, they were photographing to make beautiful pictures. All of a sudden people were looking at photography as art. And at the same time, the accessories of the women in these pictures were very timeless and personal. The powder compacts, cigarette cases, lockets. They were all pieces of art, and they were personal and special."
With a portrait photography business already in full swing and a side hobby antiquing all around the world, Kosann would gift her clients their pictures in vintage lockets and compacts she found from her travels. She loved the pieces so much that she decided to create her own. "I'm a storyteller, bottom line," Kosann says. "I always loved charm bracelets and pendants, everything that tells a woman's story." This holiday season, she's bringing that story to Estée Lauder with a 17-piece limited edition collection of charms, lockets and compacts, each one housing a makeup or fragrance treat.
Everything has a meaning. Everything tells a story.
Kosann also has two beautiful daughters, Laura and Danielle, who together run The New Potato, a food, fashion and lifestyle blog. (They've clearly inherited their mother's creative eye and storytelling abilities.) Estée Stories had the pleasure of catching up with all three Kosann women to talk food, beauty and holiday family memories. Here is the conversation that followed.
Tell us about your inspiration for the Estée Lauder holiday collection.
Monica: I had more fun doing the Estée Lauder collection than I can even begin to tell you. I had so much fun with the storytelling with these compacts that women covet. You've got collectors who adore this stuff, so I wanted to stay true to my brand. Everything has a meaning, everything tells a story. I wanted women to buy these pieces and be able, just like with my jewelry, to tell their stories. [To her daughters] I gave you guys a frog.
Laura: Yeah, I love that one. I got the frog, it's so great.
Monica: This is an expression that I always used to say to them—"you have to kiss a lot of frogs till you get your prince." I made this frog sitting on a pillow, with a little crown, and it's a lip gloss. I wanted it to be fun for women.
If there was one key lesson you'd want to ensure your daughters take away from you, what would it be?
Monica: I say many things…what do I always say to you?
Danielle: Just do it.
Monica: I said it before Nike did.
Laura: Everything in moderation.
Monica: That's what I always tell them, and I do say "everything in moderation." Follow your passion and do what you love. Seize the day, just do it. What's the worst that could happen?
Laura and Danielle, if there was one key lesson you'd want to ensure your mom learns from you, what would it be?
Monica: That's very interesting. How about when you borrow things, give them back? [Editor's note: There is clearly a lot of great jewelry being shared in this family.]
Danielle: I was thinking more along the lines of, "Keep calm and carry on!"
Monica: They're constantly borrowing from me. But what's nice is that they're my mentors. I'm always asking them for advice…on fashion, everything. They're really inspiring. I'm not just saying that. They're really inspiring for me.
Beauty regimens are often something that girls learn from their mothers. What tips have you received or want to pass along?
Monica: I always use eye cream and I always tell the girls—that was one of the first things I always said—you can never start too early with eye cream.
Laura: Never neglect the neck. I started using neck cream and I really like it.
Danielle: Elbows. I always try to remember the elbows.
Laura: The AERIN [Rose Hand & Body Cream] is amazing for that.
What are the holidays like for your family? What are your favorite traditions?
Laura: We love when Mom does Thanksgiving. She makes the best sweet potato pie in the whole world.
Monica: We love to cook together.
Laura: We do love to cook together.
Monica: It's really interesting actually, when they come home for the weekend—I love it because they cook for us.
Danielle: For us, it's always been more about the experience of food and not really about the food itself. We love food, but it's really about when we're all getting together.
Laura: We put out appetizers and stand around the kitchen talking for hours. Then we start doing dinner. It's a whole thing. We cook simply, but it's the whole experience of making a fun feast, right?
Monica: It's fun to talk. It slows you down. That's really the time we get to talk and spend time together.
Photo of the Kosanns by Jamie Beck.