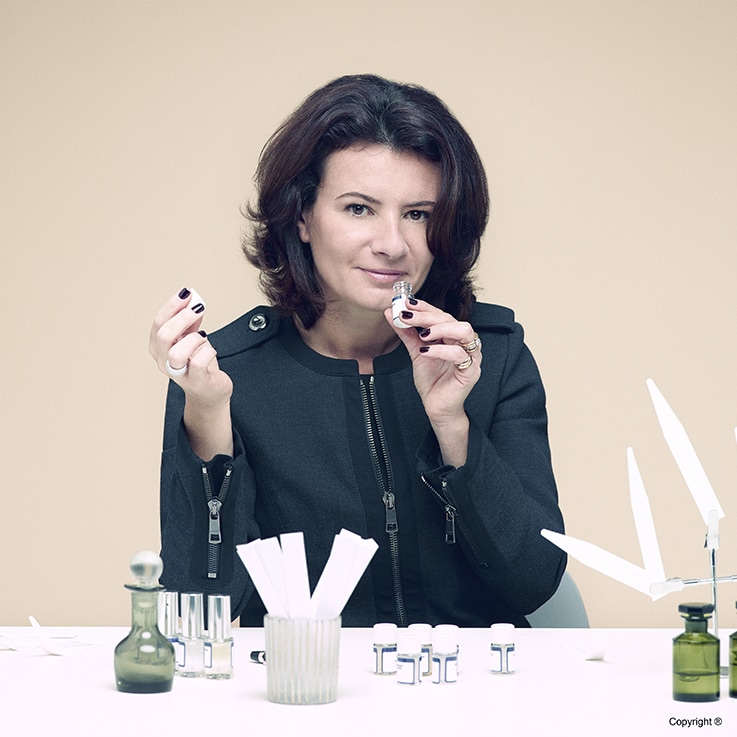 What inspires you to create fragrances?
My inspiration comes from nature, books and art; anything that serves as an escape. I love the Mediterranean. The blossoming Mimosa season is a very special moment in the South of France. It made me happy to think about these memories as a child, and it inspired me for this fragrance.
How would you describe the new AERIN Mediterranean Honeysuckle Mimosa fragrance?
It's undeniably feminine and sensual. Mimosa Absolute adds a layer of golden luminosity and sun-kissed texture that is relaxed yet sophisticated.
What comes to mind when you start a brief for AERIN Beauty?
There are three specific elements I keep in mind while working with AERIN: quality, texture and most importantly modern femininity.
I always begin by thinking about AERIN's vision for the fragrance and then how I can connect this vision through fragrance and bring it to life with emotion.
Which notes or accords came to mind building this new signature?
To keep the DNA of the original Mediterranean Honeysuckle, I thought the Mimosa flower would be a beautiful complement. Both flowers are fresh on top, with Mimosa Absolute adding depth and warmth to the fragrance while keeping the Honeysuckle bright and luminous.
Mediterranean Honeysuckle Mimosa is a floral fragrance, so these new notes really highlight the floral component. As the original Mediterranean Honeysuckle has always connected back to nature, by adding Mimosa Absolute to the Honeysuckle, they become even more intriguing among Rose Centifolia Absolute and Tuberose Absolute with touches of natural citruses.
Since both of these fragrances are so inspired by nature, how do you see them complementing each other?
Mediterranean Honeysuckle is a honeysuckle flower still covered in dew drops as the morning sun rises with anticipation in the air for the day ahead. To complement that feeling, Mediterranean Honeysuckle Mimosa is a mimosa flower still warm from the Mediterranean sun at dusk.
With the senses of sight and scent going hand-in-hand, what color would you give this fragrance?
Mediterranean Honeysuckle Mimosa is a beautifully radiant shade of golden yellow that wraps you in its texture and luminosity.
How would you describe yourself as a perfumer? What's your special signature?
I'm always searching for the beauty in imperfection and creating around that idea. My signature as a perfumer is defined by harmony between femininity and addiction.