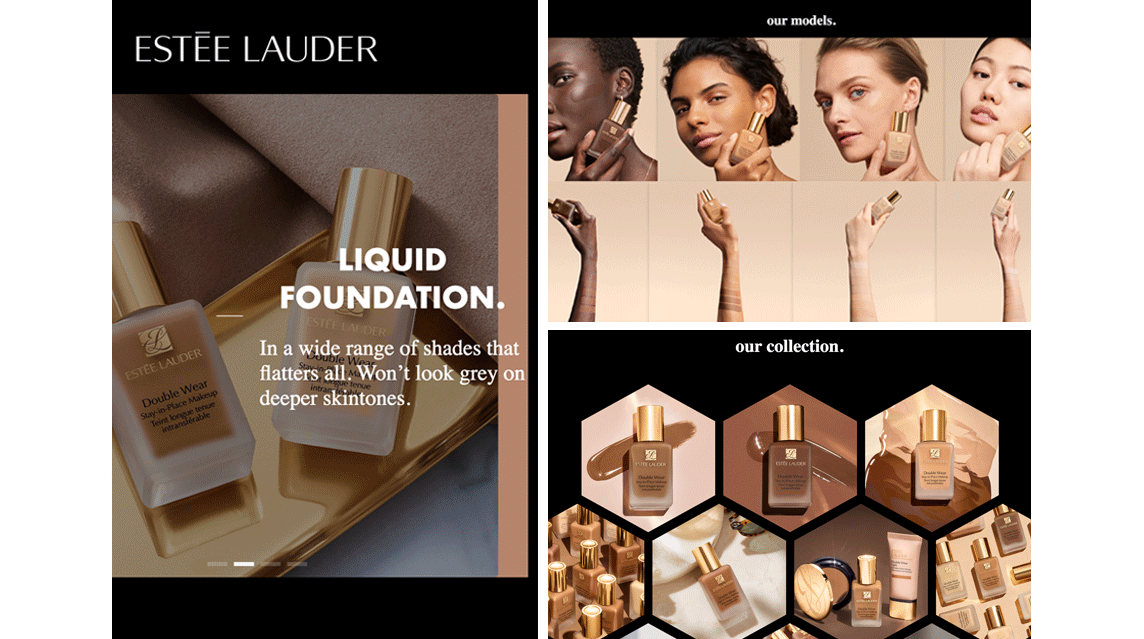 Even though we're now in our third year of partnership with Kode With Klossy, our global spokesmodel and Brand Ambassador Karlie Kloss's own nonprofit organization that teaches young women and non-binary students how to code, we never cease to be amazed—and inspired—by these scholars. To date, our partnership has enabled 6,000 summer coding camp scholarships to
high-school aged students across the United States, who've not only come away with the valuable skill of learning how to code, but they've been able to witness firsthand the creative applications coding has for the beauty industry.
This summer, 204 scholars participated in the Estée Lauder x Kode With Klossy challenge, which required them to use four coding languages to design either a website or a mobile app in support of our Double Wear Stay-in-Place Foundation. And much in the same way Double Wear overdelivers on its promises with 24-hour wear, these coders-in-training understood the assignment and then some. In fact, our panel of judges was so blown away they had to pick three winners instead of just two. Read on to learn about each of the winning designs, and a bit about the scholars who made them.
Winner 1: Pranavi, Mobile App Development
"I approached this project with the user experience in mind by striving to keep the quality of my product high while producing an easy-to-use, elegant, and sleek app."
With her elevated design experience plus a just-right mix of product promotion, Pranavi touched on the two key features we always prioritize for our website. "It was clear she put in a lot of thought about how the consumer would engage on this app, and that really came through in her design and presentation," said Emily Riess, Vice President of Estée Lauder Online.
Winner 2: Carissa, Web Development
"Following Estee Lauder's elegant and classy design, I incorporated a color palette with black and tan to create the same ambiance. This also blends well with the earthy tone of the foundation and the images."
Carissa didn't just design a web page—she created an experience (and with coding that went beyond what was taught at camp). She mixed her technical expertise with unexpected design elements, like interactive flip cards and honeycomb-shaped imagery to catch the user's eye. "I appreciate the hierarchy of how you've stacked the content," judge Janice Veksler, Vice President of Estée Lauder Creative, shared.
Winner 3: Eimaan, Web Development
"My MVP was to advertise the product to the user, so using design I did this to a high standard, in a beautiful way making a clean, elegant website to accurately represent Estée Lauder's aesthetic."
Eimaan truly wowed the judges with her presentation skills and an additional layer of research, which provided insights that drove her design. "She had a level of professionalism and sophistication," judge Janice said, "even in the way she explained everything. She took the project from A to Z." Eimaan thoughtfully mixed branded assets with user-generated content to create an authentic, engaging experience for a consumer.
Seeing these scholars' work, it's almost impossible to believe that they started the summer with little to no coding experience, yet learned how to create the incredible Double Wear landscapes they ultimately presented. Even Karlie Kloss herself, who joined the presentations in celebration, remarked on all of the scholars' incredible confidence and presentation skills. We can't wait to see where these young women take their skills next. (But we'll be rooting, of course, that they bring their talents to Estée Lauder!)
NEW SHADES
15-hour flawless wear. Wand applicator.
22 shades