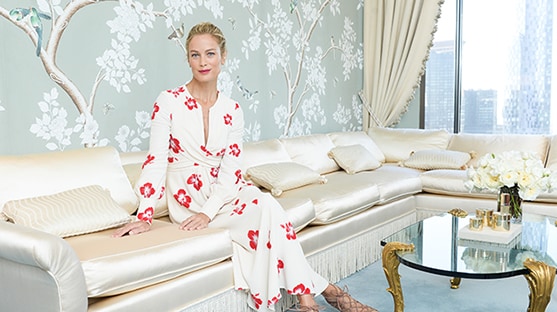 How does one reconcile a desire to be the "invisible supermodel" with the fact that she is the face behind (or, rather, in front of) one of the beauty industry's longest-running modeling contracts? Carolyn Murphy has never been one to conform to one particular expectation. Though she was discovered by modeling agents in high school, rather than run full steam ahead into an obviously promising career, Murphy chose to stay back in her home state of Virginia to pursue her college studies. A passionate advocate for wellness, the environment, and healthy living, Murphy almost rejects the notion of the high-glamour life one assumes a supermodel must live. Instead, she favors time spent in nature, with her daughter Dylan Bleue, riding horses, surfing, creating art, and continuing her education in literary studies. This woman is more than multi-faceted; she's magical. In honor of her 20th anniversary with Estée Lauder, we sat down with Murphy to ask her the definitive 20 questions about her life, career, and what she still plans to achieve.
1. Let's start with a broad life question. What is your life motto?
My life motto…haven't really thought about that one, but I guess it would be to listen to your heart and not your head, even if it's risky. I've led a somewhat unconventional life, but I've always followed my heart and have no regrets.
2. What is your philosophy on aging?
I believe aging has a lot to do with mindset. My Nana would always say, "beauty is as beauty does," so it's important to be kind to others and yourself, laugh a lot, and enjoy life.
3. How has your beauty routine evolved over the last 20 years?
With me taking more time to indulge and revel in self-care. Baths have always been a part of my nightly ritual, and I now use more products to combat aging, like layering serums and moisturisers, and using sunscreen daily.
4. What advice would you give to your younger self?
I would advise my younger self to use sunscreen daily! The damage shows up later in life. I'd also tell my younger self to say "yes" more and not be so reserved or shy.
5. What is your first memory of Estée Lauder? Who introduced you to the brand?
My first memory of Estée Lauder is from my Nana's vanity, where she had her perfumes and gold tubes of lipstick organised. I would play dress-up and put on her red lipstick and spray on White Linen—probably too much of both!
6. Biggest 'pinch me' moment of your career?
My biggest "pinch me" moment is when I visited Leonard and Aerin Lauder in Mrs. Estée's office, and when I got the phone call that Estée Lauder was signing me. It was more than a dream come true; it still feels like a dream! My first cover of American Vogue was pretty monumental as well.
7. What is your most memorable campaign or moment with Estée Lauder from the last 20 years?
I have so many special memories from photo shoots and moments with my Estée Lauder family. I feel very lucky. I think my initial meeting with Leonard Lauder, in Estée's office, was an incredible moment, because it's so beautiful. It was such an honor for me to even be considered as a spokesmodel. Aerin Lauder and I bonded over our newborns and motherhood on my first campaign shoot. Our children were all together on set with us in the South of France one year. Seeing my first ads for Advanced Night Repair and Pleasures perfume made me cry; I had grown up seeing and wanting to be the women in these ads and was waiting for the day I could finally use these products.
8. Estée Lauder is celebrating 75 years this year. What do you think is the secret to its enduring success?
A core value system of creating quality products that work, with a brand story that is aspirational for any woman, then and now.
9. Mrs. Estée Lauder was so inspiring and such a trailblazer. Do you have a favourite quote or anecdote from her?
One of my favourite Estée quotes is, "I never dreamed of success, I worked for it." But I also love "Confidence breeds beauty." She emphasised the importance of feeling like your best self. So if you're having a horrible day, put on some lipstick and a great perfume to make yourself feel better!
10. Speaking of which, what is the best beauty advice you have received, and from whom?
I've received a lot of advice on beauty over the years, but I would say that on one of our press trips in Asia, I learned that layering serums and moisturiser is the key to protecting the skin.
11. What is the one beauty product you can't live without?
I cannot live without Advanced Night Repair; it is magic in a bottle.
12. What is your nighttime routine?
I cleanse with Re-Nutriv cream cleanser, and take a bath using Youth Dew Bath Oil. Then I apply my Advanced Night Repair, and either Revitalizing Supreme or Re-Nutriv Moisturizer, and Eye Cream. I have used Weleda Baby Calendula Body Cream since my daughter was an infant; it's super hydrating. I drink Chamomile tea and take Magnesium to help me relax.
13. What is your approach to beauty from the inside out?
I'm a big believer in beauty from the inside out, so I drink a lot of water, eat a plant-based diet, exercise at least 4 days a week and try to get enough sleep.
14. What is the first thing you do when you wake up in the morning?
The first thing I do is give thanks for opening my eyes, and I say, "Today is going to be a great day." Then I have green tea, sit quietly for 20 minutes and focus on my breath.
15. Who is your role model and why?
My role model is any woman who takes charge of her life and makes things happen. There are so many I admire, but of course my Nana and my mother were my first.
16. If you could meet anyone throughout history, who would it be and why?
I would have loved to have met Estée Lauder herself, because I feel like she's been an angel watching over me, truly. I would have also loved to meet Hilma af Klint, one of my favorite artists both in her work and her philosophy, and Ralph Waldo Emerson.
17. What talent would you most like to have?
I wouldn't mind having the talent of playing piano. My daughter plays so effortlessly, and I don't think she realizes what a gift she possesses.
18. What trait do you most admire in others?
Humility—those who selflessly and quietly do good things for the world but don't need the attention.
19. What do you do to "switch off"?
These days I find it more challenging to "switch off," but I do so by going on long walks, taking a bath, cooking or creating art. I think it's important to not be constantly plugged in and that definitely takes more effort these days!
20. What do you consider your greatest achievement?
My greatest achievement would be my daughter; raising her on my own in every aspect. It hasn't always been easy, but so worth it. She's an incredible young woman, and I'm so excited to see what she does in this world.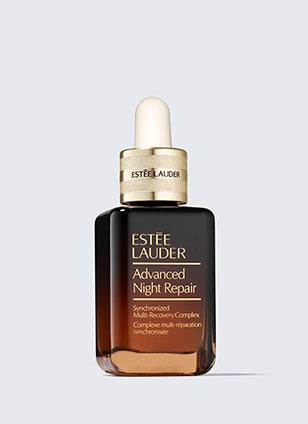 7 serums in 1: fight the look of multiple signs of aging.