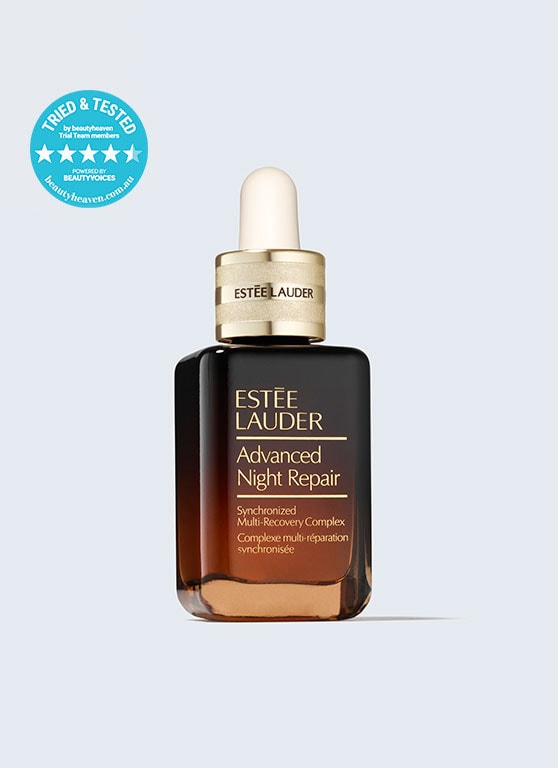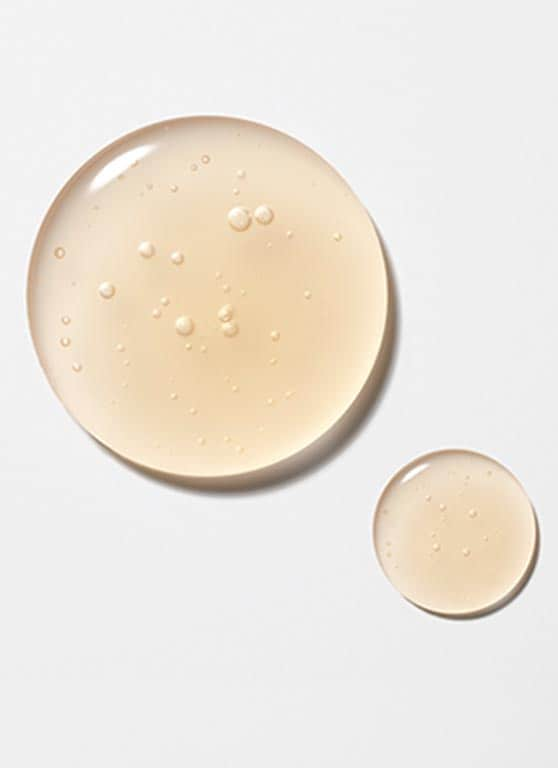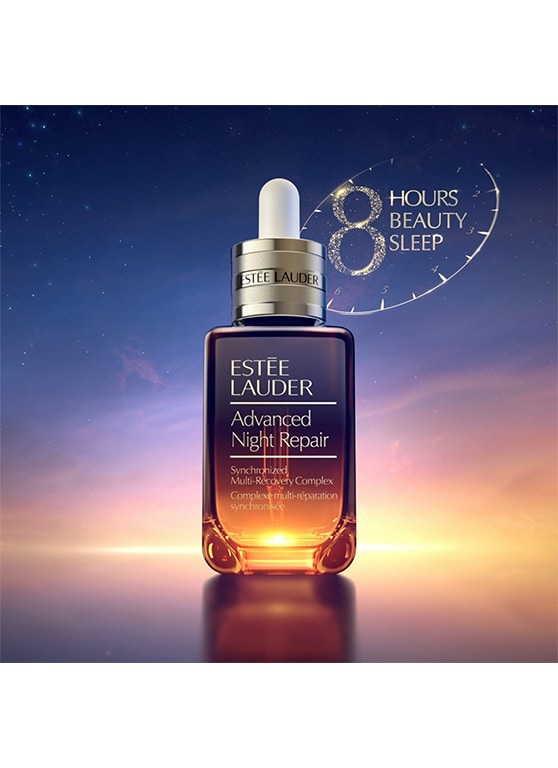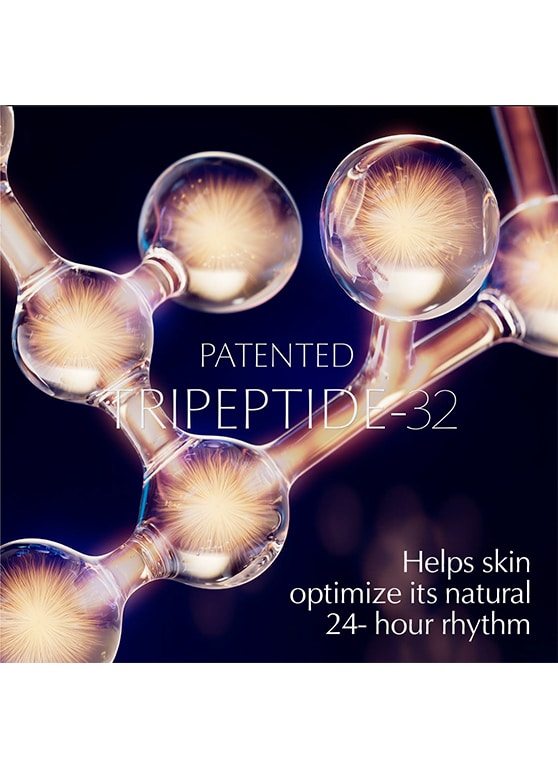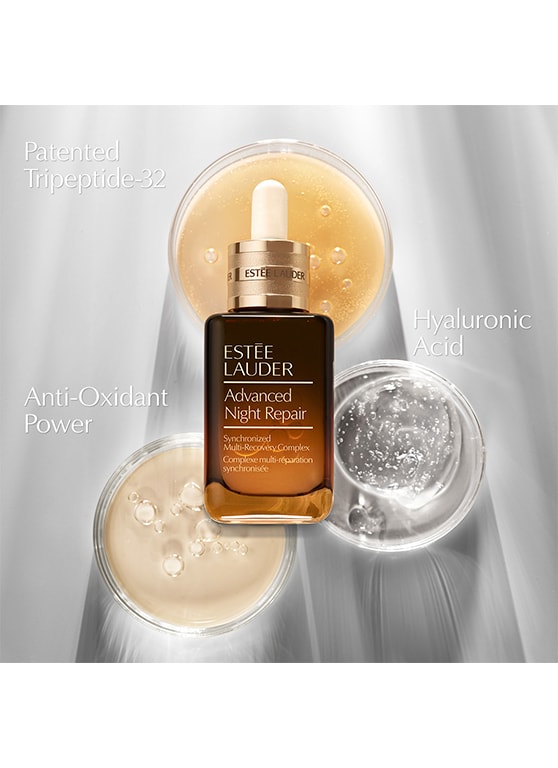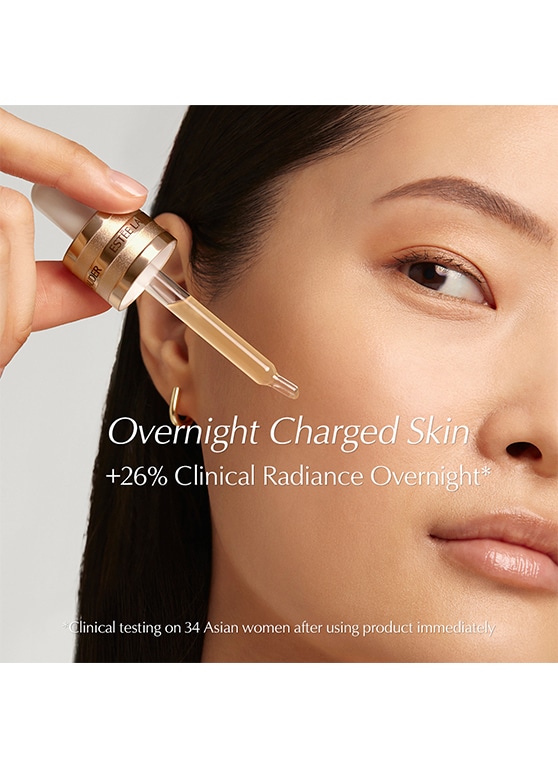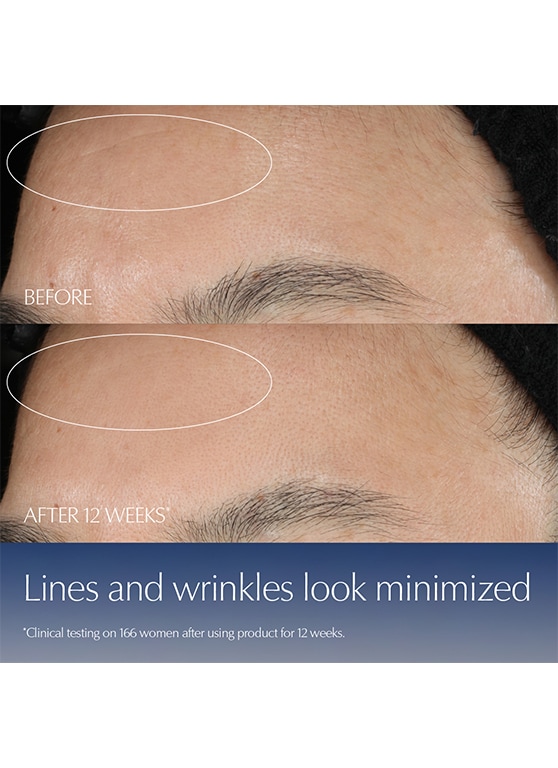 Advanced Night Repair
Synchronized Multi-Recovery Complex
BENEFITS
Our #1 serum to powerfully fight the look of multiple signs of aging.
Product Details
Learn More
Shop now and pay later with 4 payments of
$32.50
temporarily out of stock
coming soon
inactive
sold out
FREE SHIPPING WITH ANY PURCHASE OF $50 OR MORE
Product Details
Harness the restorative power of night. This deep- and fast-penetrating face serum, with our exclusive, patented 1-in-60 million Tripeptide-32, boosts 7 key repair actions. Reduces the look of multiple signs of aging. Skin looks smoother and less lined, younger, healthier—more radiant and even toned.

FEEL THE POWER OF 7 SERUMS IN 1:
1. LINE REDUCTION
• +128% moisture to plump dry lines immediately.(1)
• In just 3 weeks, lines appear reduced.(2)

2. FIRMNESS
• 89% said skin feels firmer and elasticity improved.(3)

3. EVEN TONE
• 90% said their skin looks brighter with renewed clarity.(4)

4. STRENGTHENING
• +22% barrier repair in just 2 hours.(5)

5. HYDRATION
• 72-hour hydration with Hyaluronic Acid and other advanced moisture boosters.

6. RADIANCE
• 91% said skin looks vibrant and more rested.(4)
• 8 out of 10 had boosted radiance upon waking.(6)

7. ANTI-OXIDANT PROTECTION
• 8 hour anti-oxidant protection.

AND EVEN MORE
• Pores look diminished over time.
• 88% of women said skin looks more youthful.(4)
• Oil-free texture. 90% said it absorbed quickly.(7)
• For all ages, all skintones, all skintypes. Patented until 2033.

THE 1-IN-60-MILLION PEPTIDE: TRIPEPTIDE-32
Skin's circadian rhythm is key to beautiful skin. This natural rhythm protects by day. Repairs at night. But with time the rhythm falters. Signs of aging begin to appear. So we asked: what if there was a way to renew skin's rhythm?
Out of 60 million possible peptide variations, we found The One: Tripeptide-32. It helps optimize skin's rhythm of repair with a cascade of essential benefits for youthful skin. With our exclusive, patented Tripeptide-32, Advanced Night Repair serum harnesses the restorative power of night to deliver visible renewal.
In vitro testing shows our technology promotes skin's natural renewal of vital new cells and boosts its natural collagen.
This is the high-performance face serum beautiful skin can't live without.

(1) Clinical testing on 148 women after 1 product application.
(2) Clinical testing on 176 women after using product for 3 weeks.
(3) Consumer testing on 543 women after using product for 4 weeks.
(4) Consumer testing on 543 women after using product for 3 weeks.
(5) Clinical testing on 23 women, measured 2 hours after a single product application.
(6) Clinical testing on 29 women, 12 hours after a single nighttime product application.
(7) Consumer testing on 543 women, immediately after product use.



How to Use
Apply this anti ageing face serum on clean skin before your moisturiser, AM and PM. Use one dropper. Smooth the hydrating serum gently all over face and throat.
Try Our Heart Ritual
Step 1: Apply a full dropper of Advanced Night Repair to the palm of your hand. Massage the hydrating serum onto face in a heart shape: Using all fingers of both hands, start at the centre of your face and move out to ears. Glide hands from sides of face down under chin.
Step 2: Trace a larger heart from middle forehead out to temples. Glide down the sides of the face and close the heart again under your chin.
Step 3: Finish the Heart Ritual by gently massaging onto neck in a downward motion.
Tripeptide-32: Our exclusive peptide that promotes the natural synchronization of skin's natural day/night (circadian) rhythm, in which skin protects itself by day and repairs itself by night.
Sodium Hyaluronate: AKA Hyaluronic Acid, a ferment that is a powerful moisture magnet.

BENEFITS
Our #1 serum to powerfully fight the look of multiple signs of aging.
SKINTYPE
Serum for all skintypes.
IDEAL FOR
Multiple signs of aging
Visible age prevention with anti-oxidant protection
Loss of firmness, tone, lines, wrinkles, uneven skintone
Dullness, dehydration - includes Hyaluronic Acid
FORMULA FACTS
Face serum with exclusive Tripeptide-32, Hyaluronic Acid and anti-oxidant power
Oil-free
Recyclable glass bottle and carton
Dermatologist-tested
Ophthalmologist-tested
Won't cause breakouts, won't clog pores (non-acnegenic)
Free of synthetic fragrance