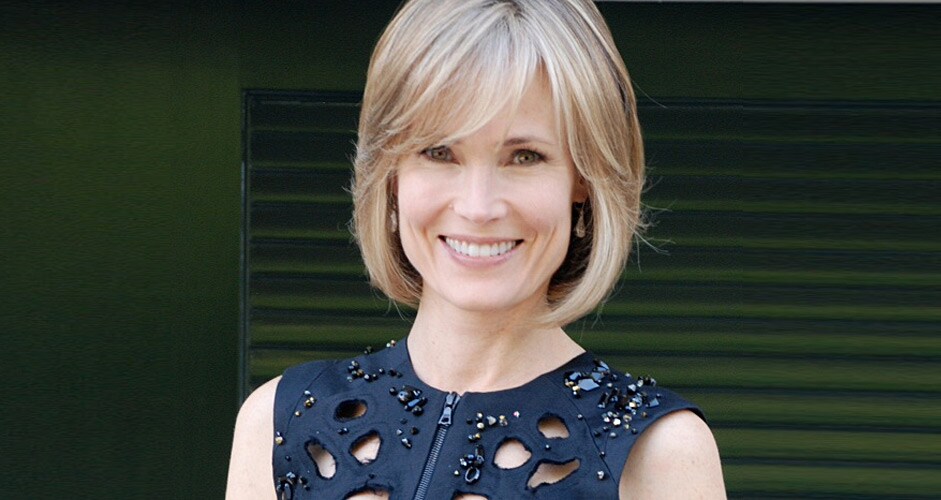 Willow Bay's path to becoming a successful model and journalist have crossed several times over the past three decades. "After my sophomore year of high school, I went into Seventeen magazine to meet with their editor about an internship," Bay recalls of her reporting ambitions. The editor explained there were no internships left, instead slyly slipping in, "but I think I might want to use you in the magazine modeling." That same day, Bay says, "I walked up Third Avenue to Ford Models and signed with them. That started my modeling career."
Estée looked at me and said … 'don't get married too soon.' It was great advice.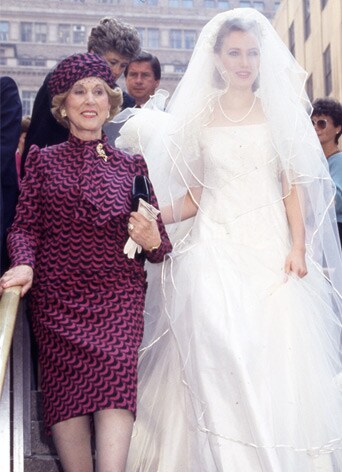 The beautiful blonde with the all-American good looks modeled part time during school breaks from Phillips Andover Academy, and later when she enrolled at the University of Pennsylvania, until a "happy coincidence" put her on Estée Lauder's radar: Bay recalls with a laugh that her college roommate happened to be dating Estée Lauder's grandson.
"When I graduated from business school, I thought, I still do really want to report," says Bay, who, given her experience in front of camera for Estée Lauder (she was the "bride" in the first Beautiful fragrance campaign), decided to pursue a career in television reporting.
There were a few stumbling blocks during the transition from model to serious reporter, she admits. "Even with a newly minted MBA, no one's going to take you seriously," Bay's agent told her when she said she wanted to focus on the business beat. But that didn't deter the now 50-year-old. After a few stints covering both style and travel stories — and one very successful turn as the co-host of NBC's iconic '90s sports platform, NBA Inside Stuff — Bay went on to become a special correspondent for Bloomberg Television while also anchoring a number of CNN programs, including the popular "Moneyline."
Here, the accomplished mother of two and the newly named director of the University of Southern California's Annenberg School of Journalism talks camera-ready beauty tips, print vs. digital — and a little basketball for good measure.
EL: Were you an Estée Lauder user before you became a part of the "family?"
WB: I became an Estée Lauder user — and I still am. But the one thing that was sort of my signature back then — certainly on television — was this lip colour called Golden Wash. It was discontinued, but I bought every last one and stored them in my refrigerator to preserve them! I used to put it over every lipstick I ever wore to subtly tone down the colour, but still give a little bright shimmer.
EL: Broadcast news journalists often get a bad rap for overdoing their makeup. Were you able to glean any other makeup tips from your time with Estée Lauder that served you well when you began reporting on TV?
WB: Blending, blending, blending — and using a very lightweight loose powder to just set everything, which I still do. I'd also stick to neutral colours with not a lot of shimmer. Right now, some [reporters] use so much shimmer on their eyes and it really pops out too much in the light.
EL: As a woman, and a woman who has spent a large part of her life in the public eye, how have you approached the ageing process?
WB: Health and fitness have become increasingly important to me over time as the foundation of healthy life. As far as ageing is concerned, my philosophy is: fight the fights you can win, and accept the other changes of age gracefully — and even wear those changes with pride. It's not easy, by the way, but they're hard-earned.
As far as ageing is concerned, my philosophy is: fight the fights you can win, and accept the other changes of age gracefully
EL: Do you have any highlights from the six years you spent as the face of Estée Lauder?
WB: I remember when we launched Beautiful in 1985, which was one of the brand's most successful fragrance launches, I went on a marketing and promotion tour with Estée Lauder. The campaign was bridal themed, and I vividly remember crossing Fifth Avenue in New York City, going from Saks to the event across the street with [Estée] guiding me by the hand. Here was this powerful dynamo of a woman holding me by the hand in full bridal regalia as we crossed Fifth Avenue! It was both exhilarating and mortifying. I remember Andy Warhol snapping pics at some point with his little camera, and I also remember [Estée] asking me if I had a boyfriend. She didn't use the word boyfriend, but a lovely term like, "beau," or "suitor." I can't remember what I answered but then she looked at me and said, "That's nice, dear, but don't get married too soon." It was great advice. The whole experience of getting to see her in action was, to this day, one of the highlights of my career.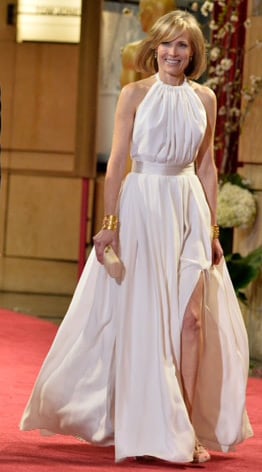 EL: What made you decide to return to journalism after you found so much success in the fashion world as a model?
WB: I thought at the time that maybe it was too late to go back to being a journalist, but I knew I wanted to have a career. I said to my agent, "Why don't I become a business reporter?" and he laughed at me. He said, "Why don't you start working in fashion where you're a known commodity and it'll be a lot easier to get assignments and build up expertise and credibility." So, I started working as a quasi-fashion reporter doing segments on a lot of morning shows. I hated every second of it, but it was great experience. Eventually, I had a couple of real jobs not in that space — I anchored a show for the Travel Channel — then I ended up at NBA Inside Stuff.
EL: Of everything you have covered, what has been your favourite beat?
WB: The most challenging and rewarding is business news, and that's my favorite. The rate of change in the technology sector, which is really where I spent the bulk of my reporting time, has been unprecedented. So, keeping abreast and even ahead of that change is quite a challenge. Having to take a deep dive into a company and its leadership in order to report meaningfully, or in my case do a meaningful live interview, is exceedingly challenging but it's also extraordinarily rewarding. The most fun that I've ever had on the job was at Inside Stuff, though, hands down.
EL: It was such a special time in basketball history — Michael Jordan, the Dream Team! Do you still follow basketball?
WB: Yeah, I live for my home teams, which are the New York Knicks and the Los Angeles Clippers, and I have two boys who are insane basketball fans. I couldn't even try to keep up with the intensity of their viewership or their extraordinary capacity for statistics.
EL: As the newly named director of the University of Southern California's Annenberg School of Journalism, you have a direct link to shaping the next generation of aspiring journalists. What are some characteristics that you think separate good reporters from great reporters?
WB: Some of the things that have always defined great journalists are a relentless curiosity, a determination to pursue the facts, the drive to speak truth to power, the honesty to examine and recognise your own biases and a commitment to accuracy. All of those things have never been more important, but I also think that today, a fluency and ease with new technology and an ability to embrace the rapidly changing journalism environment is critical.
EL: Do you think print will ever truly die?
WB: Well, digital is leading us forward in this industry. A dirty little secret: my guilty pleasure is still a newspaper — a real, in-my-hands newspaper. So, for me personally, the newspaper certainly isn't dead.