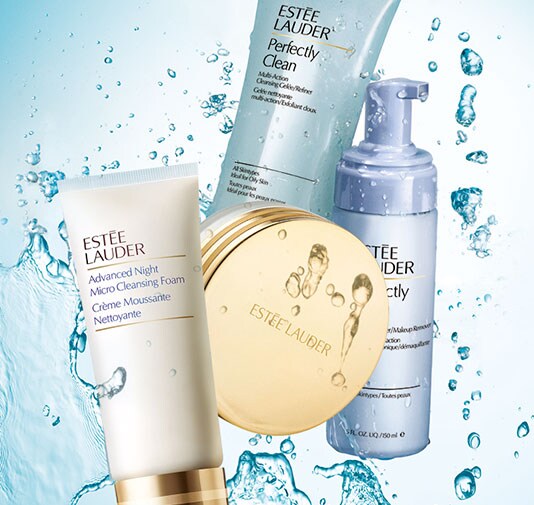 It's the latest skincare phenomenon: double-cleansing. And it's the secret to extra glowing skin!
What is Double Cleansing?
Why, you might wonder, is washing your face twice really necessary? Think of it not so much as a wash, but a chance to revive and refresh your skin in different ways. (Plus, you only need to do it at night. We're not trying to rob you of all your free time.) Certain cleansing formulas and ingredients, like oils, are best for breaking down makeup and sunscreen, while a foamier texture better whisks away all of the dirt and grime that accumulates on your skin in a given day. The extra step doesn't just get you extra clean, it also exfoliates dead cells, so the active ingredients in the rest of your skincare routine can penetrate more effectively, giving you the best chance of achieving beautifully-glowing skin.
What is the Double Cleansing Method:
Here's our guide on how to double cleanse diligently and effectively:
Step 1: Oil-Based Cleanser
Start your double cleanse with one of the best oil-based cleansers: Estée Lauder's Advanced Night Micro Cleansing Balm. Smooth it onto dry skin, and let it melt into a nourishing oil that breaks down the initial layer of stuff on the surface—not just makeup and sunscreen, but even impurities, like pollution. Splash with water, and it transforms into a milky cleanser that rinses your skin clean.
Step 2: Foaming Cleanser
Next, pick a foamier cleanser that suits your skin type and any skin concerns you might have, like dryness, oiliness or sensitivity. This extra wash helps further purify skin, leaving it in its freshest, most naturally radiant state. The best double cleansing products for you will depend on what your skin type is and what skin concerns you have. Most skin types - especially normal to combination, will enjoy the cult favourite Perfectly Clean Multi-Action Foam Cleanser, whilst oilier skin types prone to acne or breakouts may prefer the Perfectly Clean Multi-Action Cleansing Gelée which has a nourishing and creamier formula which won't strip the skin of its important natural oils.
You'll notice a difference in just a few days of double cleansing and be doubly glad you tried it!