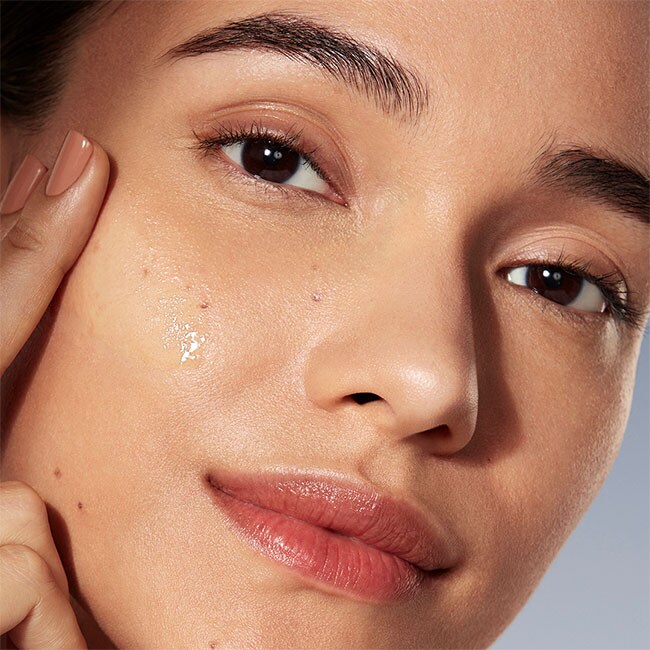 Sensitivity causing skin frustration? When day-to-day stressors lead to skin irritation, we're here to help sensitive skin find relief fast. Discover all you need to know about identifying and caring for skin sensitivity plus the products you need in your AM and PM routine when your skin is acting up.
What is skin sensitivity?
Skin sensitivity can look different from person to person and can be caused by several factors including the environment and exposure to certain products. Some of the common "sensitive skin" signs include:
Dryness & Dullness
Post-Shaving Irritation
Red Post-Acne Marks
Easily Irritated Skin
Ongoing Redness
Visibly Irritated Skin
Damaged Skin Barrier
Can different skin types experience skin sensitivity?
Any skin type can experience skin sensitivity, including oily, dry or combination skin. Regardless of your skin type, you'll want to upgrade your skincare routine with formulas that can address the signs of sensitive skin and help prevent them in the future.

What is the best skincare routine for sensitive skin?
Your skincare routine may look different depending on your skin type and the unique signs you're experiencing. There are some steps and products, however, that any skin type dealing with skin sensitivity shouldn't skip out on. Our favourite is Advanced Night Repair Rescue Solution.
Morning Skincare Routine For Sensitive Skin
Step 1: Gentle Cleanser
Try a gentle cleanser that won't strip the skin of its natural oils while protecting your skin's barrier like Advanced Night Cleansing Balm or Perfectly Clean Multi-Action Foam Cleanser/Purifying Mask. Pro-tip: Since scalding hot water can be irritating for sensitive skin types, use lukewarm or cold water to rinse your face.
Step 2: Treatment Lotion
A toner or treatment lotion can provide additional soothing, skin nourishing benefits. For normal to dry skin types, try Micro Essence Treatment Lotion with Bio-Ferment. If you have normal to oily skin, you'll love Micro Essence Treatment Lotion with Sakura Ferment. Both formulas help soothe skin and fight visible redness while protecting and strengthening skin's barrier.
Step 3: Skin Sensitivity Specialist
A skin treatment like Advanced Night Repair Rescue Solution can be your answer to managing skin sensitivity.
This breakthrough from our best-selling Advanced Night Repair Collection is specifically formulated for sensitive skin. It's infused with the high-performance exclusive peptide of our star serum. Plus, unique ingredients to soothe the look of irritation to visibly reduce face redness, while providing some of the repair benefits we're famous for.
In just one use, it helps fight visible irritation and redness. Calms, soothes and hydrates. Featuring 15% Bifidus Ferment, it helps both soothe and prevent the look of red, irritated visibly sensitized skin. It also helps significantly strengthen skin's moisture barrier to fight the appearance of future redness.
Step 4: Repair Serum
Whether you're dealing with oily, combination or dry sensitive skin, our #1 Advanced Night Repair Serum can give skin soothing, skin-renewing benefits. It can help boost radiance, strengthen and hydrate skin and more.
Step 5: Nourishing Moisturiser
Always make sure to moisturise—no matter your skin type. A moisturiser like Revitalizing Supreme+ Moisturizer is made for all skin types. It hydrates and nourishes skin while firming and strengthening for a more lifted look.
Evening Skincare Routine For Sensitive Skin
Step 1: Gentle Cleanser
Cleanse your skin to remove any dirt, makeup, sunscreen and other impurities from the day.
Step 2: Treatment Lotion
Use your chosen treatment lotion again at night for redness-fighting, skin-soothing benefits.
Step 3: Skin Sensitivity Specialist
Our Advanced Night Repair Rescue Solution can be used in your morning and nighttime skincare routine to target signs of sensitivity.
Step 4: Repair Serum
End your night with our Advanced Night Repair Serum. It helps ignite skin's natural nightly renewal while you sleep so you can wake up with visibly renewed skin.
Step 5: Nighttime Moisturiser
Use a nighttime moisturiser like Revitalizing Supreme+ Night Creme to nourish skin while you sleep. This formula also reawakens and revitalizes skin to target multiple signs of aging while you sleep.
Want more tips on caring for skin sensitivity? Book a Virtual Consultation for 1-on-1 advice from an Estée Lauder expert or take our Skincare Routine Quiz to find products best suited for your skin type and concerns.