Learn More About Estée Lauder Foundations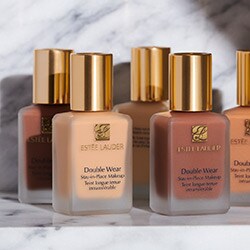 Create your smoothest and most flawless complexion with silky, natural foundation.
Pick your perfection with liquid, pressed, and loose powder foundations that smooth, hydrate, and brighten skin. With a wide shade range choose from, your look will stay fresh and natural through heat, humidity, and intense activity.
Foundation is an essential element in any makeup routine. It reduces shine, covers imperfections, and creates the perfect base for other makeup products. Whether you're after a full coverage liquid or a skin-perfecting powder, Estée Lauder has a foundation designed for your skin.
A sheer foundation can give you the natural, lightweight coverage you need to even your skin tone and control oil. Our Double Wear Light foundation uses a long-wear formula that gives you 15-hour wear. With a texture as light as air, this foundation ensures your skin can breathe all day but doesn't smudge or move, even through heat and humidity.
Medium coverage makeup creates a flawless complexion that disguises discolouration and smooths your skin. Double Wear Stay-In-Place and Double Wear Nude Water Fresh foundation both have 24-hour staying power for a fresh and natural look that lasts all day. With over 20 shades to choose from, your makeup will always look genuine.
To completely conceal imperfections, opt for a full coverage foundation. Our Double Wear Maximum Cover Camouflage Makeup provides a liquid-crème makeup designed to camouflage all types of skin imperfections, from sunspots to acne scars and tattoos. A broad spectrum SPF 15 protects skin from damage, while the 24-hour staying formula ensures your look stays natural, no matter what your day entails. Use a primer to control shine or create a luminous base to keep your look in perfect place.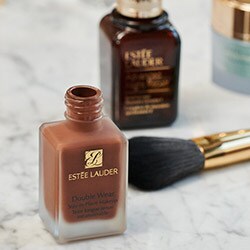 For full coverage that also promotes a youthful glow, try Perfectionist Youth-Infusing Makeup. Infused with age-defying Perfectionist serum technology, you'll not only find coverage, but also confidence.
Customise your coverage with a powder foundation that mattifies and smooths. Double Wear Stay-in-Place Powder Makeup combines the coverage of a foundation with the oil-absorbing power of powder for makeup that looks and feels natural. The unique, dual-sided applicator that lets you build your coverage. Use the sponge side to apply as a foundation, or the velvety side to use as a finishing powder over liquid makeup.
While foundation creates a flawless finish, a luminous highlighter brightens your look. Perfectionist Set and Highlight Powder Duo give you a perfecting powder and highlighting powder in one. Swipe the glistening powder over cheekbones for a radiant, youthful appearance. Add a touch of lipstick and a swipe of mascara for a look that's daring and defined.
If you're looking for silky, sheer coverage that feels light, our Perfecting Loose Powder is for you. The micro-sheer powder controls shine, helps hide imperfections, and minimises the look of pores. Incredibly fine particles ensure your skin feels naked and natural.
Whether you choose a liquid or powder foundation, you'll want the right tools for the job. A liquid foundation brush has a tapered edge that will allow you to create the most natural look. A powder foundation brush is large and full to disperse powder consistently across the skin, revealing an even, shine-free complexion. For your Double Wear foundation, use a makeup pump to dispense the perfect amount of product every time.
Flawless skin is just a foundation away. Reveal your smoothest, silkiest skin with the perfecting power of foundation.
back to top