Learn More About Estée Lauder Repair Serums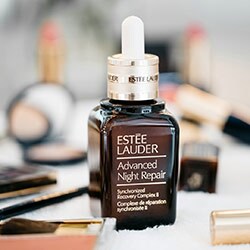 Hydrate, repair, and smooth your skin with a powerful serum. Estée Lauder serums use potent ingredients to target fine lines, uneven skin tone, dull complexion, blemishes, and stressed skin. Healthy skin is confident skin. When skin is hydrated and energised, it looks younger, smoother, and firmer.
Discover the benefits of serum to reveal your most radiant skin. With just a few drops, you'll enjoy a more flawless complexion that exudes confidence. One of the most powerful benefits of serum is its ability to deeply penetrate the skin to deliver fast results. Estée Lauder serums are lightweight and silky smooth, which allows them to be absorbed within seconds.
Serums are highly targeted and their potent yet gentle formulas focus on common complexion issues such as fine lines, wrinkles, dryness, and dullness.
Our Advanced Night Repair Synchronised Recovery Complex II serum fights all the key signs of ageing to unleash your most youthful complexion. Lines and wrinkles look less prominent, and skin appears smoother and stronger. Complete your night-time ritual with a cleanser, treatment lotion, and moisturiser for skin that looks healthy and nourished.
The Perfectionist Pro Rapid Firm + Lift Treatment is our most effective wrinkle-fighting serum ever. With a powerful concentration of Acetyl Hexapeptide-8, the formula penetrates quickly to help skin boost its natural collagen and elastin.
Fine lines and wrinkles can be a particular problem in the delicate eye area. Estée Lauder eye care treats your eyes to intense nourishment that strengthens the skin and leaves your eyes feeling refreshed and energised. Advanced Night Repair Eye Concentrate Matrix uses innovative 360° Matrix Technology to plump and hydrate the eye area, creating a wide-open look.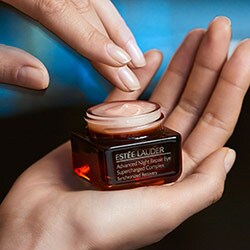 While night repair serum works as you sleep, let our DayWear Eye Cooling Anti-Oxidant Moisture Gel Creme brighten, de-puff, and hydrate your eye area for a full 24 hours. Using Super Anti-Oxidant Complex, the formula minimises the look of dark circles, renews delicate skin, with skin appearing smoother, hydrated and refreshed. Keep it refrigerated for an extra cooling sensation.
The Revitalising Supreme Global Anti-Aging Mask Boost helps to dramatically reduce multiple signs of ageing. Infused with IntuiGen Technology™ and a breakthrough Anti-Fatigue Complex, the formula helps reverse the visible effects of fatigue for a more rested, healthy, luminous look.
Combine the benefits of masks and eye care with our Advanced Night Repair Concentrated Recovery Eye Masks. Revitalise your eye area in just ten minutes with pre-moistened pads that hydrate, soothe, and refresh your eyes. Relax and unwind with ingredients like soothing Aloe Vera and refreshing cucumber.
Whether you want to reverse the signs of ageing, infuse hydration, or brighten your skin tone, serums are your solution. Reveal your supplest skin and clearest complexion with potent serums and revitalising masks.
back to top