Beautiful Together
Stories of Estée Team members, Brand Ambassadors,
Beauty Advisors, and longtime loyal fans about the impact
our brand has had over the past 75 years.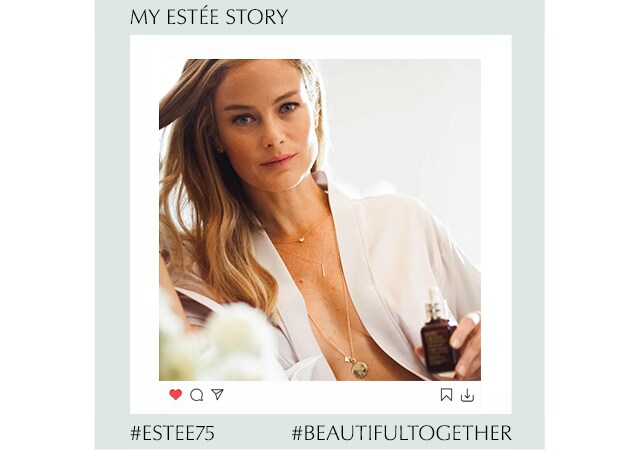 Carolyn Murphy
Estée Lauder Global Brand Ambassador
 This year is the 75th anniversary of Estée Lauder—and my 20th with the brand! It's still a dream come true for me to be a part of the Estée Lauder family. I grew up with the brand; some of my earliest memories are my Nana's gold tubes of lipstick, my mother's perfumes, and their vanities adorned with Estée products. They both swore by Advanced Night Repair. I can remember my first purchase of my very own "magic in a bottle"—it was like I had discovered a lost treasure, but it was also a rite of passage. I've used ANR for 30 years and not only is it a connection to the women in my family, it is my secret to healthy skin and my favorite product of all time. As Mrs. Estée Lauder once said, "Glow is the essence of beauty!"  I'm proud to celebrate #Estee75 and to be an Estée Model. We are all #BeautifulTogether.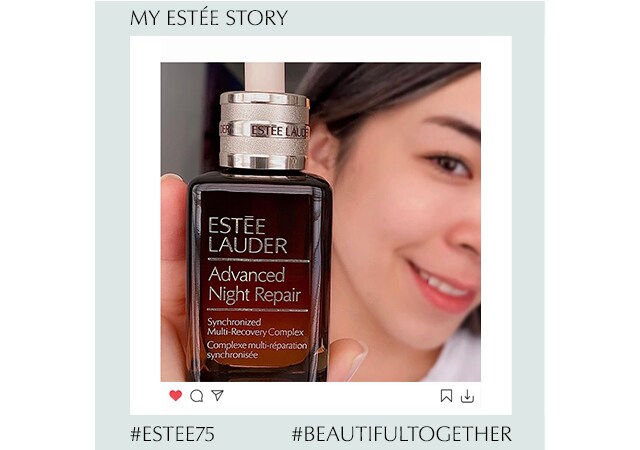 Kaylee Ng
Estée Lauder Global Pro Makeup Artist, Malaysia
Becoming an Estée Lauder Beauty Advisor 5 years ago, and the thrill of being a part of the first freestanding store, was really an out-of-this-world experience.
Thank you, Mrs. Estée Lauder, for being an icon. Your way of touching, inspiring and enhancing everyone's unique beauty has touched me.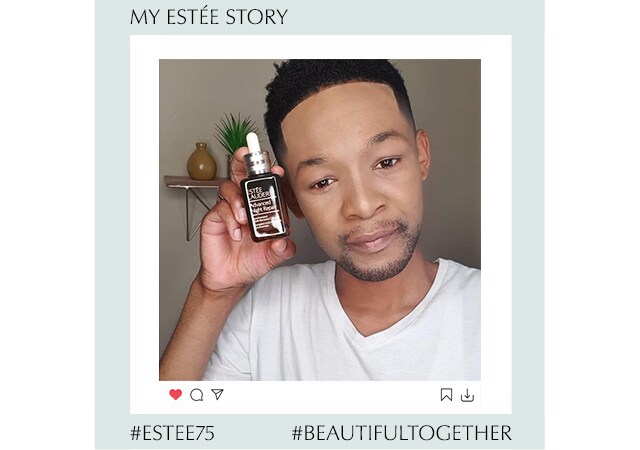 Aubrey Komane
Regional Estée Lauder Makeup Artist, South Africa
My Estée Story began when I first started working in a small cosmetics store. Estée Lauder was the leading brand. I always admired the Beauty Advisors and envied how their customers returned time and time again to buy their products. I dreamed of trying them one day. One of the ladies, sensing my longing, gave me samples of Double Wear foundation and Advanced Night Repair serum.
And oh, wow! I fell in love, and all I sold thereafter in that store were those two products. Soon I was appointed to work for the brand and fell more in love with every product.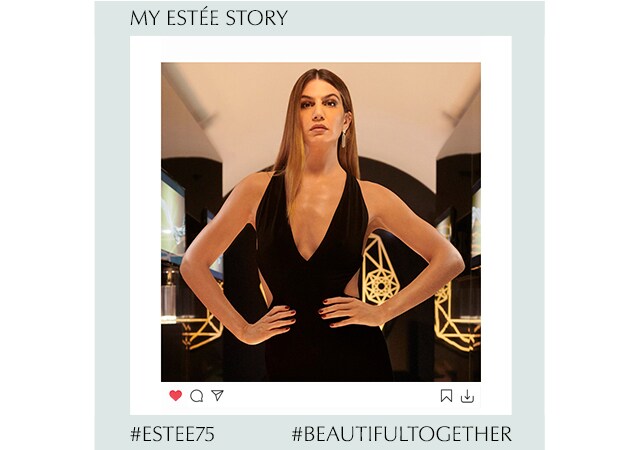 Bianca Brandolini
Estée Lauder Re-Nutriv Ambassador
Long before I became an Estée Ambassador, I remember watching my mother apply her Estée Lauder creams every day. I would stare at her during her ritual and remember thinking to myself that I couldn't wait to grow up and be able to feel as luxurious and pretty as she did while using her products. Whenever she wasn't looking, I would always find a way to go steal a jar to try it on my face. From a very young age, Estée Lauder was a universe I aspired and dreamt to be part of, and here I am today. Since becoming Re-Nutriv's Ambassador, I have traveled to Provence to learn about the black diamond truffle, shot on location in amazing destinations, visited the Estée Lauder headquarters in NYC, and beyond. Estée Lauder is inspiring, innovative, the #EsteeTeam is now my extended family. I am so grateful to be a part of this iconic brand's story.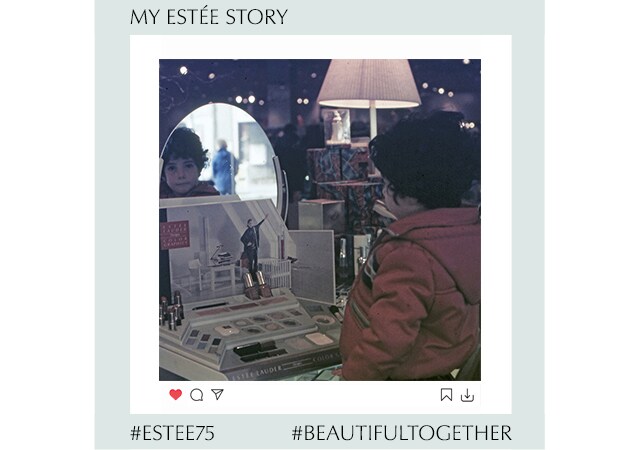 Maayan Zilberman
Confectioner & Artist, and founder of Sweet Saba
This photo is from when I first moved from Israel. Imagine being a young girl, seeing a department store makeup display for the first time. Seeing the image of a strong female body, dressed in a leather suit and shoulder pads, in her own sun-drenched workspace. I'll never forget that moment, and seeing myself in that round swivel mirror, in my favourite ski jacket and mom-trimmed bangs.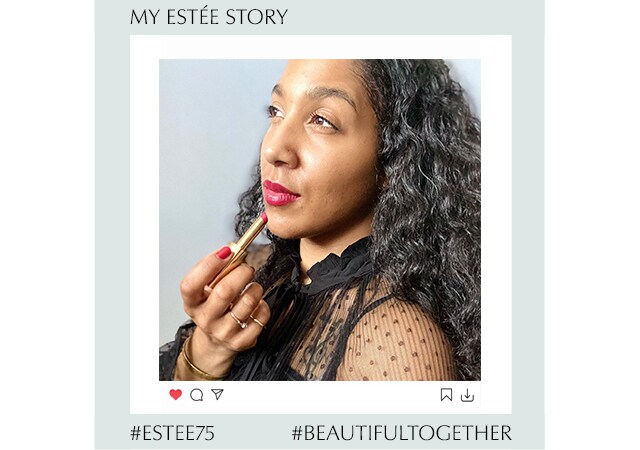 Katarina Simon
Estée Lauder Field Executive
As I reflect on my life and journey throughout my career, it always leads me back to Estée Lauder.
I have had a love for the beauty industry since I was a little girl, watching my mom get ready for a big night out. I used to sit in the kitchen, hand-making lipsticks and eyeshadow palettes. I've always been a believer that everything happens for a reason, and nothing before it's time.
Now, this iconic company I work for everyday embodies everything I have ever wanted to create, and that is when I knew I was truly at home.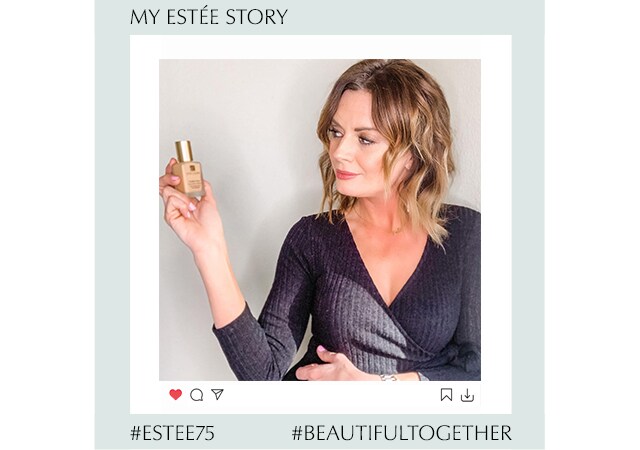 Kate Matthews
Estée Lauder Field Executive
As we celebrate the 75th anniversary of the iconic company I work for, let's go back to where it started for me. Estée Lauder has been a part of my life for as long as I can remember because of my mother. The first product she used (and still uses!) is Swiss Performing Extract. As a little girl, my father would take me shopping for her at our local Estée Lauder counter every holiday! So when I joined this brand 9 years ago, there was already so much love in my heart. What I did not know, however, were the experiences, knowledge and relationships that working for Estée Lauder would give me. I had no idea about the incredible legacy that Mrs. Estée Lauder had and that I would be lucky enough to be a part of it. As she said, "People do make their luck by daring to follow their instincts, taking risks, and embracing every possibility."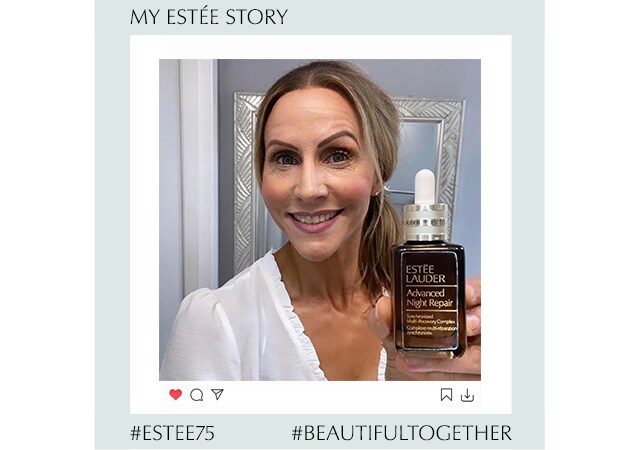 Eileen Dotter
Estée Lauder Field Executive Training Manager
My Estée Story is simple: Treat everyone like a friend and share what you love. Trust comes with every deposit; make your time count with whomever has your attention. Celebrating the 75th anniversary of our legendary company is a perfect reminder of Mrs. Estée Lauder's humble touch and the legacy she left behind.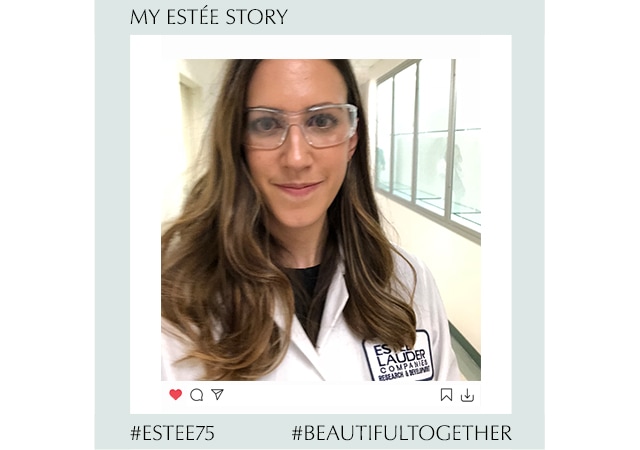 Meredith Gray
Director of Global Consumer Engagement
Estée Lauder has been an indelible part of my life for as long as I can remember. My grandmother wore Youth-Dew and loved the makeup and skincare; my mum purchased her first eye cream in college from EL (I won't betray her by saying how many years ago that was), and passed the advice on to both my sister and me to start using the same Estée eye cream in our college years. We celebrated this brand (and loved our gifts with purchase!) long before I ever joined the Estée Team, but a job with our family's favourite brand was the ultimate "I've made it" moment. To me, Estée Lauder is about celebrating women as the best possible versions of themselves, just like the women in my family: strong ladies who know that the power of "putting yourself together" isn't just about how you look, but finding the strength to face life and its challenges head on—with grace, resilience, and a killer sense of humour.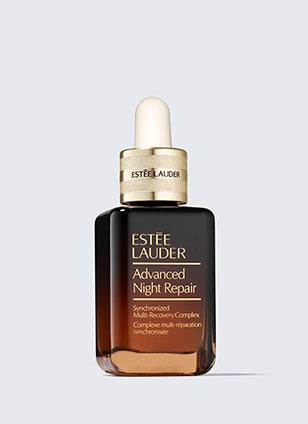 Quick Shop
7 serums in 1: fight the look of multiple signs of aging.
Quick Shop
SUPER LONG 24-HOUR WEAR. FLAWLESS. NATURAL. MATTE.
60 shades