Learn More | Estée Lauder Moisturisers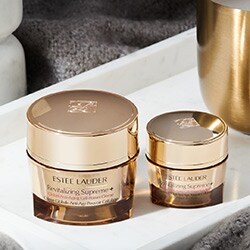 Does your skin thirst for more? As one of the most important steps in any morning or night-time skincare routine, moisturisers plump the skin with rejuvenating hydration to ensure the skin is protected, nourished and fortified.
Hydrated skin means healthy and youthful-looking skin. Choose the best moisturisers for you based on your skin's needs, whether it be dehydration, dullness or lack of radiance, or fine lines and wrinkles. Estée Lauder moisturisers feature powerful and efficacious ingredients such as cucumber extract, Moringa Extract and Tri-Peptides for proven results for all types of skincare types and needs.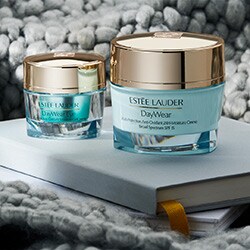 To help prevent and diminish the first signs of ageing, our DayWear and NightWear products contain effective anti-oxidant protection in a lightweight formula to refresh skin with lasting hydration. For the ultimate anti-ageing routine, use the DayWear Advanced Multi-Protection Anti-Oxidant Crème SPF 15 in the morning with the NightWear Plus Anti-Oxidant Night Detox Crème at night. The DayWear Cooling Anti-Oxidant Moisture GelCreme will brighten and de-puff the delicate eye area for a full 24 hours, too.
Target all signs of ageing – including dehydration and fine lines and wrinkles – with the Revitalizing Supreme+ collection for skin that looks its radiant best. Our exclusive RevitaKey™ Technology – featuring Moringa Extract – encourages skin's natural power to amplify collagen and elastic which are key for youthful-looking skin with bounce, glow and radiant vitality. The Revitalizing Supreme+ Global Anti-Aging Cell Power Crème is perfect for morning and night, plus is available in multiple versions including with SPF, as a soft crème, or in oil-free form.
For skin that needs intense nourishment to target deep lines and sagging skin, opt for our Resilience Multi-Effect range. Best paired with the lifting benefits of our Perfectionist Pro products, the Resilience Multi-Effect range contains an advanced Tri-Peptide complex to amplify collagen production to reveal youthful-looking skin of full radiance, plumpness and resilience.
Complete your morning and night-time routine with a thorough cleanser, hydrating treatment lotion, powerful repair serum and targeted eye care for skin that looks healthy and nourished.
back to top